Last week, Arkansas Governor Asa Hutchison signed Senate Bill 32, which allows for state off-premise retailer permit holders to offer home delivery of products to consumers. This measure contains important provisions to ensure the many public health and safety benefits of Arkansas' three-tier system can expand to embrace consumer convenience with local, licensed delivery.  
WSWA has long championed responsible alcohol delivery, and Arkansas SB32 is an example of what smart and responsible alcohol regulation can look like as states consider alcohol e-commerce options for consumers. Wine and spirits wholesalers in Arkansas worked with state legislators to ensure inclusion of important provisions in the measure to protect public health and safety, including a county delivery radius and requirements to prevent underage access. WSWA looks forward to consumers having access to the wide variety of products that Arkansas' family-owned wholesalers bring to local retailer's shelves.
"By embracing the responsible delivery option in this measure, the legislature, and the Governor, have voiced support for expansion of consumer convenience via options that most importantly respect the safeguards in place in our proven state-based regulatory system and local control," said Stan Hastings of Central and Moon Distributors. 
"Businesses and communities came together to find the best solution for our state's needs, in a way that will respect our local governments and give our state licensees the opportunity to grow and provide consumers with convenient options – without jeopardizing public safety, efficient tax collection, or consumer choice," said Vice President of Government Affairs at Southern Glazer's Wine & Spirits Alan Steen.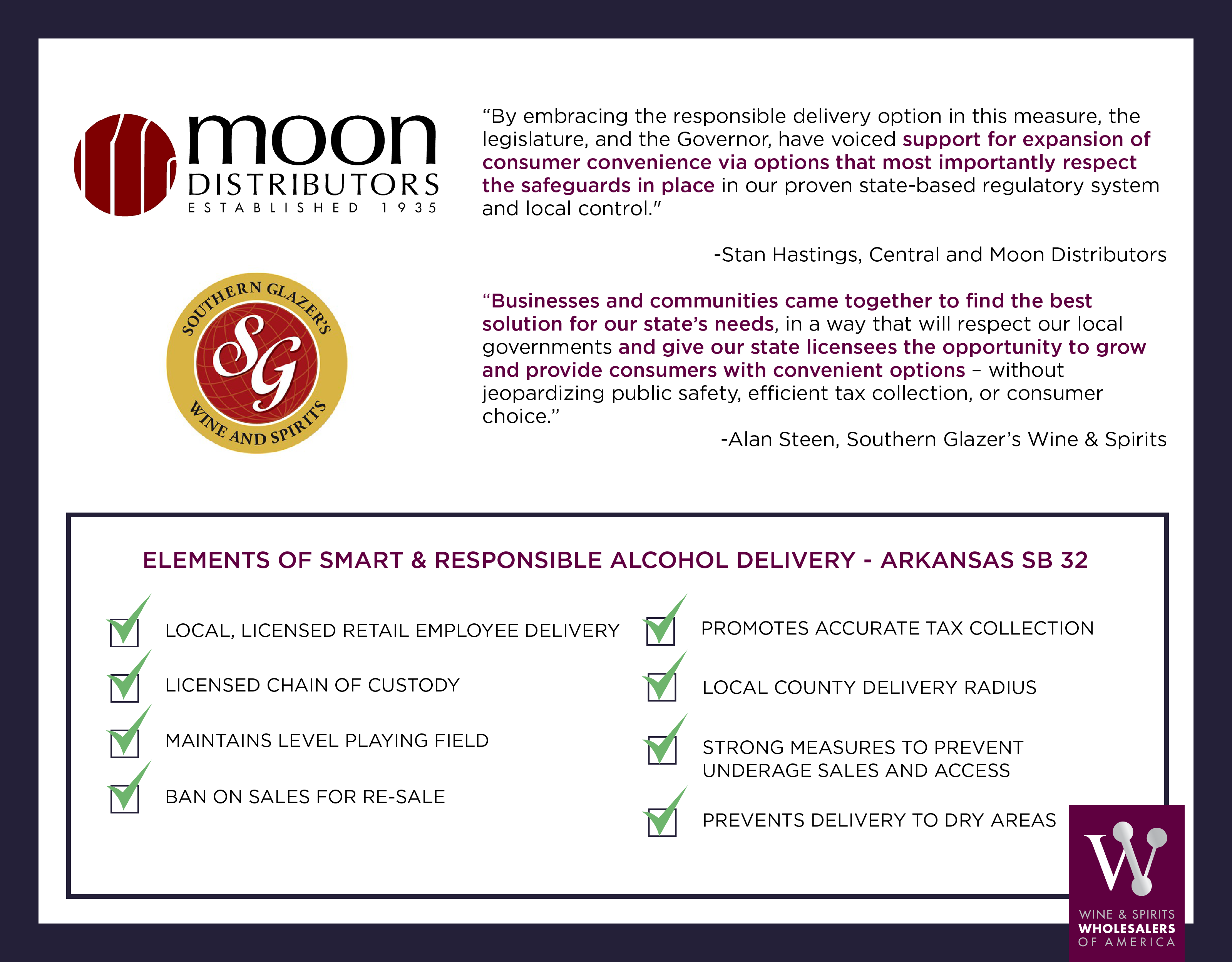 In an effort to protect consumers and maintain the standard of public safety the current U.S. system of alcohol distribution ensures, WSWA defines responsible alcohol delivery as the direct transportation of alcohol from a licensed, local retailer to a consumer age 21 or older.
To learn more, please visit: https://www.wswa.org/news/responsible-consumer-alcohol-delivery-during-covid-19-beyond