Washington— A record-high of 17.5 million people are expected to travel in the weeks leading up to Labor Day, Monday September 3, according to Airlines for America. Many of these travelers will be visiting countries outside of the United States and will consume alcohol while there. If you or someone in your travel party intend on consuming alcohol in another country, you should be aware that not all countries have a well-regulated alcohol system like the U.S. This can result in wine and spirits sold in those countries containing toxic substances like methanol, jet fuel and other poisonous toxins that can cause illness, organ failure and even death.
Here are a few general tips you can follow when enjoying wine and spirits abroad, as well as the "4 Ps" of how to detect counterfeit alcohol.
General tips:
Always purchase wine and spirits from a bar, restaurant or retailer in the main shopping or business district. Avoid buying alcohol in remote or "off the beaten path" locations.

Stick with brands you recognize and avoid the ones you do not. And when possible, do not purchase premixed drinks. It is preferred the drink be made in front of you so you can watch the product be poured from a bottle. Be sure to check the bottle for poor labeling, misspelled words, and torn labels and seals.

When you walk into the liquor store, bar or restaurant, be sure to see a good mix of other patrons. Seeing that both locals and tourists are shopping, dining or drinking there is a sign that the establishment is serving responsibly.

If the price seems too cheap to be true, it probably is. Be mindful of cheap, discount products.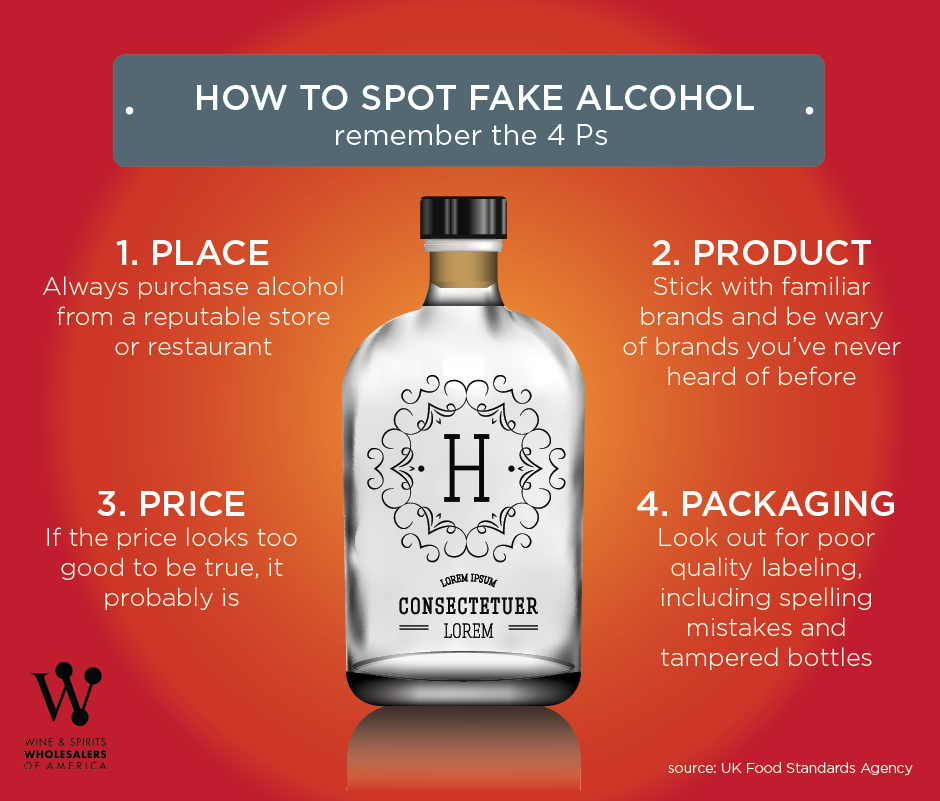 Why is drinking in a country outside of the U.S. different than drinking in the homeland? The unique beverage alcohol system in America is comprised of three tiers: suppliers, distributors and retailers, all of which are held accountable by strict and robust regulatory structures and business practices. Every entity in U.S. three-tier system is licensed by the state in which it does business and all wineries, brewers, distilleries, and distributors are also licensed and regulated by the federal government. This means that all three tiers (suppliers, distributors and retailers) work hand in hand with state and federal regulators, helping ensure safety and product legitimacy for U.S. consumers. If the three-tier system didn't exist, counterfeit alcohol could prevail. The possibilities for counterfeit or illicit alcohol could range from bootleg liquor produced in unsafe or unknown locations, to refilling bottles with cheaper, or possibly toxic product. All of which can lead to health risks, including dizziness, blindness, nausea, liver or kidney problems, and in some cases, even death. As more headlines are printed and more people begin to travel, the value of the American three-tier system becomes more apparent and proves to be a model for the world.