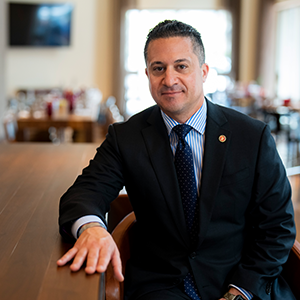 Michael Bilello
Executive Vice President, Strategic Communications and Marketing
Michael Bilello joined WSWA's senior leadership team as Senior Vice President for communications and marketing in April 2019. In this role, Michael supports WSWA's senior executives, the state and federal government affairs team, the WSWA PAC, and the organization's members throughout the country with comprehensive marketing and strategic communications. In 2020, Michael led a team effort to create and launch WSWA's Access craft wine and spirits program, working with wholesalers and industry partners to develop expert guidance, resources and best practices that help craft brands navigate industry challenges and identify opportunities.
Prior to joining WSWA, Michael served The Transportation Security Administration (TSA) as a politically appointed Assistant Administrator (TSES) for strategic communications and marketing from October 2017 to April 2019. There, he advised TSA's senior leadership on all internal and external communications, specifically employee, public, industry and media engagement. He also directed the daily media relations, social media and marketing strategy and efforts for the agency and the 51,000 employees that make up its ranks.
Before joining TSA, Michael was CEO and founder of Centurion Strategies, and for a decade supported publicly traded companies, startup brands, professional athletes, and entertainers with comprehensive public relations, marketing, advertising, spokesperson, and crisis management services. He was named to PR Week's 40Under40 in 2009 at the age of 28.
Prior to entering the public sector, Michael was accepted to the United States Marine Corps' Officer Candidate's School on September 11, 2001 and was later commissioned. He went on to serve as a public affairs and media relations officer with the I Marine Expeditionary Forces and escorted international media outlets through Iraq during the initial ground war in 2003. He was honorably discharged in 2005.
Michael is a graduate of Florida State University with a B.S. in Political Science, and the Defense Information School (DINFOS) at Fort Meade Maryland.  He resides in McLean, Virginia with his family.